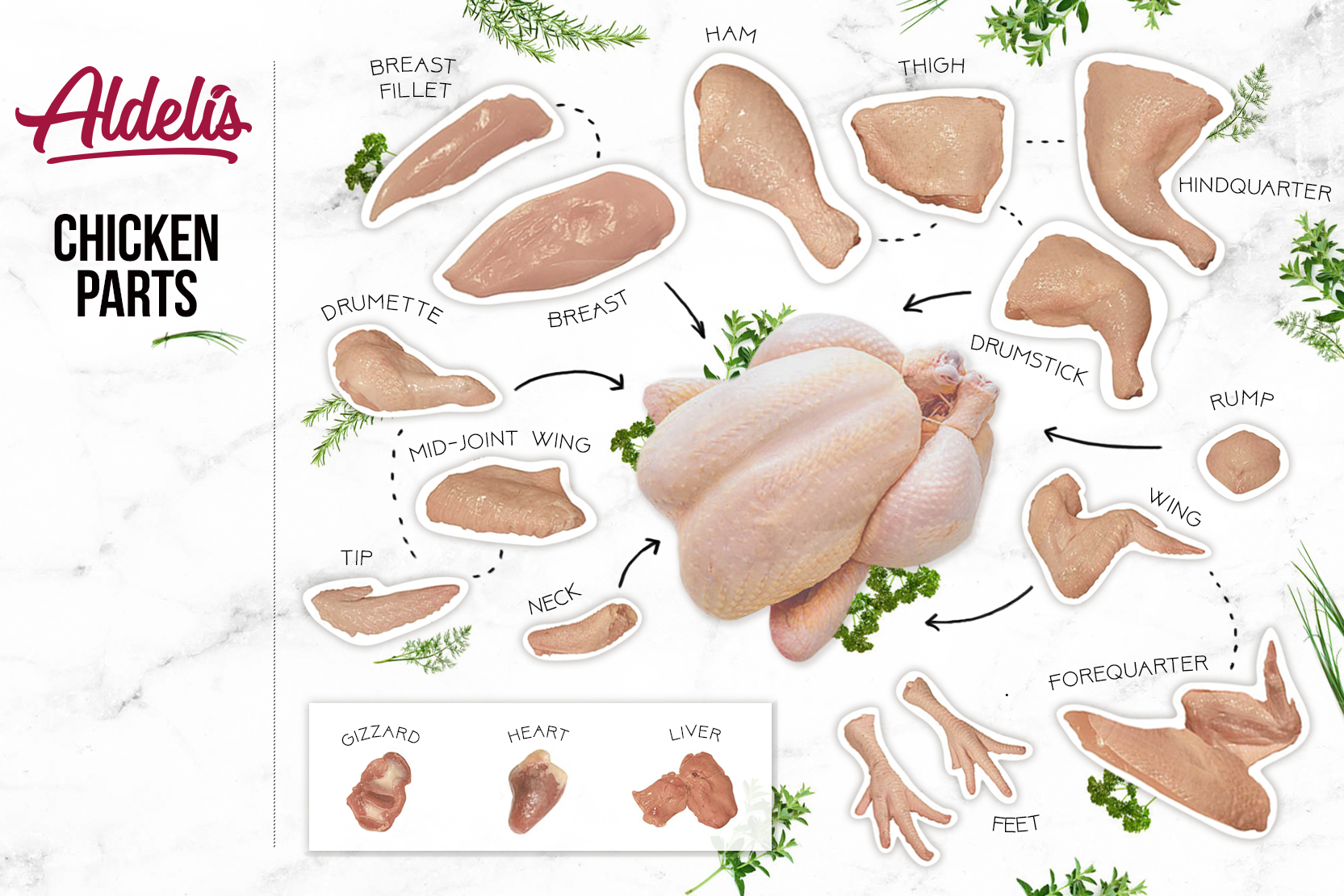 CHICKEN PARTS: CHOOSE THE BEST ACCORDING TO THE OCCASION OR TYPE OF COOKING
The popularity of chicken has grown over the years, while at different stages of history it has been regarded as both a delicacy and an unnoticed past. But the truth is that today chicken is one of the most appreciated and valued foods of animal origin by diverse cultures, culinary traditions and consumers of all ages.
It is a very popular food worldwide, as well as nutritious and tasty is a meat that can be prepared in various ways and combined with all types of food, from pasta and rice to vegetables or legumes.
From Casa Matachín we explain you in this post which are the parts of the chicken in a detailed way, since many times we do not know well the food that we are cooking and this meat is very used in the weekly diet of the home.
In this drawing you will be able to differentiate the different parts of the chicken, that mark the quartering or the form to cut a chicken. If you buy a whole chicken you will be able to cut it up easily attending to its different parts, although you will also be able to buy your favourite areas individually, such as wings or thighs.
Depending on the anatomy and parts of the chicken bone we can differentiate:
Chicken breast: it can be boned or boneless, with or without skin. Its preparation is very diverse, can be made breaded, grilled, stuffed, with bechamel …
Chicken wings: with a reduced size are a delicacy for appetizers and dinners and are usually accompanied by sauces. They do not contain much meat and are common on the children's menu.
Chicken drumsticks: boneless or without boning, they can be stewed, baked or prepared with various sauces and vegetables.
Chicken ham: they are the lower part of the leg below the knee joint.
Chicken thigh: formed by the upper part of the leg above the knee joint. It is the part closest to the body of the chicken.
Chicken Liver: ideal for cooking stewed or grilled, can be accompanied by vegetables, rice or other foods. Along with the neck, heart and gizzard are part of the so-called chicken giblets.
Forequarters: includes the breasts and wings, which corresponds to about a quarter of the chicken. The supreme chicken is the forequarter without the chest bones but with the meat around it.
Hindquarters: includes the thighs and back or backbone, one of the tastiest parts of the chicken when barbecued.
Chicken carcass: the shell or skeleton of a chicken or any other bird, after cutting. It is used almost exclusively to make tasty chicken broths.
Once we have separated all the chicken there are remainders that we can crush and crumble to use them in stews, stuffed or salads.
As you can see, chicken is a meat that has different parts and can be cooked in many ways. In addition, it contains proteins of high biological value, B vitamins and minerals such as Zinc or Magnesium.
Among the benefits of eating chicken meat also highlights its high protein intake and low-fat content, in addition to being a meat easy to digest.
Therefore, with this information it is important that you take this meat into account for a healthy and balanced diet. The variety of ways you can prepare it will make us never tired of it and you can be original in its preparation to surprise both at home and our guests.
It only offers advantages, since in addition to vitamins, minerals and proteins it provides us with energy and health.